Community report: Melbourne Microsoft //publish event
There was a Microsoft Windows //publish event hosted in Melbourne on the 17th May. So naturally I put my hand up to help out at the event.
The Windows //Publish event https://publishwindows.com/ was a chance for people that are building apps to get together, and work on polishing their apps and getting them deployed. The event saw a lot of enthusiastic people attend.
The best part for me, was walking around and having people ask me for advice about their app. Being able to provide assistance to make their apps just that little bit better is a great feeling. But it was also great to look around and see everyone help each other out with advice.
The catering at the event was lovely. Sushi and fresh fruit!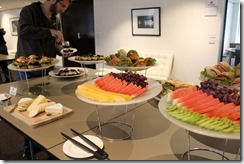 After lunch, people gave short presentations to showcase their apps.